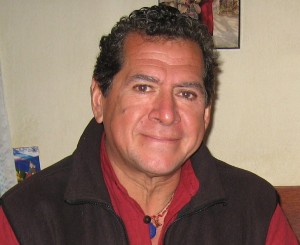 Jaime De La Barrera is a graduate of the 4 year Medical Herbalist course of the College of Phytotherapy in England. Prior to this he completed all 3 levels of the Bach Flower Remedies Professional Training.
Jaime has taken the cancer clinical training with Donald Yance at the Centre for Natural Healing in Oregon, USA. Jaime also has spent a year and a half in India, Nepal and Thailand, studying Tibetan medicine, Buddhist Philosophy.
Jaime has worked in the complementary medicine field with people from all over the world for many years. His passion for botanical medicine started at a young age, as he was raised with herbs in his native Mexico (one of the oldest herbal traditions in Latin America). Jaime has lectured at the University of Guadalajara's Faculty of Medicine, as well as other learning medical institutions. He is an avid long distance walker and believes that people should have the responsibility of taking better care of themselves at all 3 levels, physical, mental and spiritual in order to achieve a more healthy, enjoyable and balanced life. His approach to a client's health includes botanical medicine, exercise, nutrition, energy work and meditation.
Jaime is available for consultations in person or via Skype, as well as lectures and workshops on any health related subjects. If you any questions, please contact him.
Jaime is a member of the National Institute of Medical Herbalists and the College of Medicine, both in the UK.
SITE PURPOSE
This site is dedicated to medical herbalism Western tradition, which is the one developed from the great civilizations of Mesopotamia, Egypt, Greeks, Romans, as well as the blend of native Americans and the Anglo-American original therapeutic core.
Now that herbal medicine has attained a well deserved prestige, as a result of widespread discontent with allopathic medicine, and the people 's search for medicines that will compliment their needs, we have the responsibility to learn more about herbal medicine and how to use it safely.
Herbal medicine is of great importance to the health of the individuals according to the World Health Organization (WHO), and it is estimated that 80% of the world's population relies on traditional herbal medicines for a significant part of their health care.
I will try to give you the latest information about medicinal plants as well as information related to safe usage of herbs for specific conditions. My goal is to increase people awareness, knowledge and safety while using herbal medicine. Remember self medication or self diagnosis with herbs is not appropriate nor safe.
This page will grow to include herbal research and other related herbal topics that will enhance our knowledge about herbs and how to used them to prevent, maintain, or bring our health back to balance. Your input is not only welcome but expected.
ACKNOWLEDGMENTS
There have been many people to whom I would like to thank, not only for my herbal knowledge, but also to make this page possible.
Several herbalist have helped me in my formal herbal education, but my first herbal teacher was my mother to whom I thank for opening the wonderful world of herbs. She not only gave me my first medicinal tea, but she planted the herbal knowledge seed in my young brain.
My herbal teachers, Jazz Mattu MNIMH, Harwinder "Pinky" Mattu MNIMH, Chanchal Cabrera MNIMH, Rowan Hamilton MNIMH, have to be thanked not only for the knowledge that they shared with me, but because they keep the herbal medicine tradition going strong for the benefit not only of clients, but future herbalist as well.
I would also like to thank all my herbalist friends and colleagues that teach me something new everyday.
I would further like to acknowledge associations such as The National Institute of Medical Herbalists and the American Herbalists Guild that keep the herbalists knowledge and tradition alive.
Finally, I would like to thank the herbal colleges that maintain the herbal flame burning and other similar institutions that form the herbalist of the future. Internet sites that provide free information about complementary medicines and research,as well as others that have helped me build my site must be acknowledge. I am sure I have missed many others although not intentionally, I thank all of you.